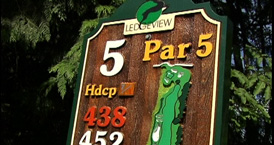 As with any other industry, golf courses compete for new customers and try to keep existing ones. Here in the Fraser Valley there are close to 30 courses.  So how can a golf course improve engagement with its members and attract new players? One of the best ways is to add video to the marketing mix. There are tremendous benefits to using video on a golf course website and in social media. First of all, it's visual, and so is golf!  If you're a golfer, you probably watch PGA tour events on TV. You want to see it, rather than read about it.
So don't tell people about the course — show them! Show off your manicured greens, challenging layout, and scenic holes. Don't just describe your great golf instruction programs, show them in a video. Have special programs and events?  Promote them on social media with a short video. One of the main reasons for using video is to benefit from the engagement it creates. Video content posted to Facebook or Twitter is far more likely to be viewed, liked, and shared. And the final benefit is that your course will stand out and be noticed, because few golf courses are making effective use of video. Ready to give it a try? Let's tee it up and get started.
I'll be posting more about the advantages of using video in marketing golf courses, but for now here's a video I edited this week. It's footage I shot a few years ago at Ledgeview in Abbotsford, for a story I produced for Shaw TV. Note that this video footage is in standard definition. These days I shoot completely in HD. If you are interested in having a golf marketing video created for your course or club, please email or phone 604-807-2150.
http://youtu.be/UqfPDcaGl1A&amp&rel=0
Share